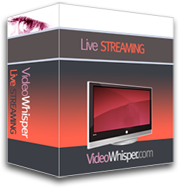 easy install and update as WordPress plugin
web based live webcam video broadcasting
live stream as HTML5 WebRTC / HLS / MPEG-DASH / Flash RTMP
broadcast from HTML5 WebRTC, OBS/GoCoder/Flash RTMP, RTSP
transcoding for HLS iPhone / iPad playback support
premium channels with better features and quality
control access by roles, ID, email
limit broadcasting and watch time per channel
BuddyPress group channel integration
paid channel support
membership site ready, paid tips for broadcasters
widget with online channels
channel setup and management page in frontend
channel listings with live AJAX updates
snapshots for external streams
custom ads in chat
channel post type (for easy access management)
external application support with RTMP session control
(Wirecast, Flash Media Live Encoder, Open Broadcaster Software)
IP camera 24/7 streams
scheduled video playlist
iPhone / iPad alternative available (custom app)
Find more details about latest version on the turnkey solution website:
The VideoWhisper Live Streaming software can easily be used to add webcam live video broadcasting to WordPress, live video streams on blog pages and setup membership for accessing or broadcasting live video.
Administrators can control access to broadcasting and watching live stream (including defining lists of users that can access).
Latest version includes a settings page linked both from Plugins page > VideoWhisper Live Streaming > Settings and Left menu > Live Streaming> Settings menu.
BuddyPress integration: If BuddyPress (for Wordpress) is installed this will add a Live Stream tab to the group where users can watch live video and chat realtime. Admins can broadcast anytime from Admin > Live Streaming. Group admins can broadcast from Admin section.
Find on this page: live demos, installation instructions, customisation and development info, paid channels setup, membership site setup, external application support.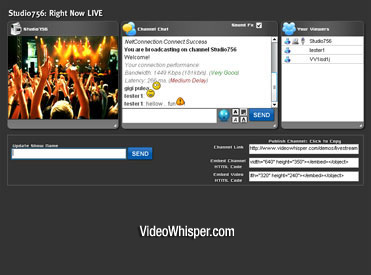 * These snapshots may be outdated, showing older interfaces. For latest version check
turnkey streaming site solution
and
live streaming site demos
.