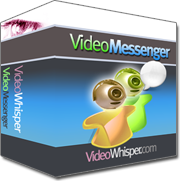 + PPV private video chat
+ public perfomer rooms
+ members can request private paid show
+ online perfomers list with live snapshots
+ live video preview on performer profile page
+ performers can have multiple private sessions at same time
Also see
WordPress PPV Live Webcams
turnkey videochat solution.
Video Girls BiZ is a website software suite, containing all software and scripts required to power a pay per view / pay per minute online video chat business.
This software powers an online, almost automated business where 2 types of users (performers and paying members) are assisted in providing and receiving online services.
Performers join to earn money. They turn on their webcams and hang out in public rooms waiting for members to chat.
Paying members invite performers to private video chat sessions and pay per minute.
The website receives an important customizable share of all earnings and deposits member funds stored as credits.

See How it works!

This product refers to website software (like php scripts, flash applications) for web developers or site owners and does not include adult content like pictures or videos.

Videochat performers have a special performer panel for their activities, settings and statistics.

1. Performers have a Performer link right in their member panel to open quickly their performer panel.
2. Perfomers can setup their rate and go online.

Performers
+ Perform and wait for a customer private request
+ Settings (setup custom cost per minute)
+ View stats for selected period
+ Edit payment withdrawal details

Each user has a detailed profile page with pictures and live video (if available).
1. Visitos can see live video directly on the performer's profile page if the performer is online chatting and not busy in a private session.

2. Site Member can join the chatroom to chat with the performer.

Site Members
+ Buy credits
+ Manage creditcards (if direct charge is setup)
+ Search trough performer profiles
+ Join online performers in public, hosted chat rooms if available
+ Invite perfomers to paid private chat sessions
+ Send offline invitation is performer is online but now chatting
+ Send message if performer is not online

Performers go live in their rooms and talk in public chat roms with their viewers.

Viewers can request a private paid show.