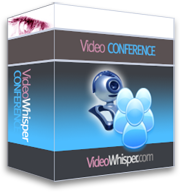 many to many 2 way video chat
default video panels
unlimited extra video panels
user list with online participants
room list with avatars
file sharing
private messaging
profile picture , info and link
push to talk
P2P group streaming support
codec setup (H264, Speex, NellyMoser)
acoustic echo cancellation
session timer and control with scripts
100% web based for clients
VideoWhisper Video Conference is a modern web based multiple way video chat and real time file sharing tool. It can be used stand alone or integrated as extra feature to existing sites.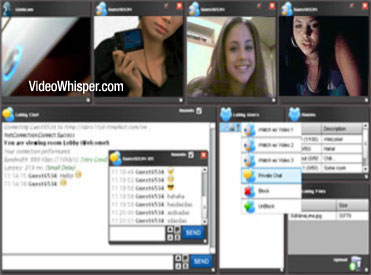 Find on this page: demo, site integration, user features, webmaster features, archiving (recording), screen sharing, layout changes, supported rtmp servers and more.
This software allows users to establish multiple web based concurrent videophone calls and videoconferencing, that can also be referred to as a web video link. With a standard computer using any operating system, webcam and internet connection users can achieve telepresence and participate in tellecollaboration, teleconferencing sessions worldwide without leaving the comfort of their home or office. This is obtained instantly without any downloads or technical trainings required.
Internet based video conference software is great for bringing physically distant people together in meetings, trainings, conferences, live events, recruiting, consultations, coaching and of course casual community chat.
Web based video conferencing solutions bring people together instantly and without travel costs and time loss. These benefits open a wide range of new business opportunities and bring the extra value needed by established sites struggling to go ahead of their competitors.
Configuration (conference rooms, settings) and user interface (skins, icons, sounds) are loaded from external files that can be edited or replaced allowing webmasters and developers to easily customize the user experience and integrate with various content and member management scripts.
Recommended turnkey site setup: WordPress Plugin, for easy configuration and room/user management.