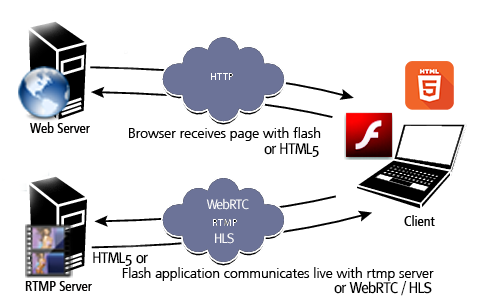 These high end features (web based live video streaming and interactions) have specific software and hardware requirements compared to a regular website.
This advanced software requires 2 types of hosting server capabilities (compulsory) usually on same server / host:
a Web Server for the regular website features (HTTPS) and
a Streaming Server relay for live video streaming (RTMP/HLS/WebRTC/RTSP)

This architecture makes it 100% web based and very easy to run for your website users, without software downloads and installations, on multiple device and browsers. Streaming technologies involved depends on each solution (specific requirements apply to each implementation depending on technologies used).
HTML5 Streaming Server Requirements
Latest solutions implement HTML5 interfaces and and require HTML5 live streaming capabilities (WebRTC, HLS), as Flash plugin support is being terminated by Adobe and major browsers.
HTML5 live streaming is implemented using these server requirements (included with VideoWhisper complete hosting plans from $50/mo and turnkey license + hosting bundles):

Wowza Streaming Engine (not cloud)- $2100/year licensing (check their site for current price), with special requirements:
- VideoWhisper solutions involve a custom module library for Wowza SE and specific configurations that need to be deployed for installation. This is included with our turnkey hosting plans and possible only when running own server (not cloud streaming services with default configurations and no possibility to add own libraries).
- As WebRTC is new technology, latest Wowza SE version is required for best reliability and support. Versions older than 4.7.7 don't support WebRTC at all and early support is limited and less reliable.

Session Control functionality license in module for Wowza SE available for 200$/setup + 50$/month rental
SSL (preferably StreamLock available with Wowza SE license) configured on streaming server
Configuration for WebRTC, HLS, MPEG-DASH on streaming server
FFMPEG with HTML5 codecs on web host

Streaming server setup & administration services can be provided for 3rd party dedicated servers at 400$/setup + $40/mo updates & support.
Warning: Standard web hosting servers and plans don't include the required specific live streaming server capabilities, server software licensing, tools and configurations or administrators experienced with such features.
- In most scenarios, best option for a fast reliable setup at best price is to move website or point a subdomain to our fully compatible turnkey managed streaming hosting plans or dedicated servers.
- If you have own dedicated server or premium hosting with FFmpeg, remote streaming is possible with some feature limitations, if rest of requirements are available on web host.
- If you need to use a specific dedicated server in a certain location with different provider, our administrators can assist with setup of requirements and server administration for additional fees. This involves having own licenses, for own server: $2100/year Wowza SE (check their site), 200$/setup + 50$/month stream session control, WHM or similar web hosting tool.
- Using VPS, cloud instances for a live streaming server is not recommended for performance reasons and also does not make sense economically considering fixed server licensing costs and capacity limitations related to server streaming bitrate. Virtualized server environments may not be able to keep system clocks and live stream packets in perfect synchronization, causing issues like video & audio being out of sync or broken session recordings. A powerful dedicated server with high speed (1Gbps or bigger) internet connection is recommended to host the live streaming.


Hosting Web & Streaming on Same or Different Physical Server
RTMP/HLS/WebRTC can be used remotely but many solutions also involve web scripts accessing files on rtmp server (like video files, streaming configuration) or additional requirements like FFMPEG for analyzing streams, generating snapshots, transcoding.
Installations that don't involve script access to recordings / videos / configuration on rtmp server and involve only Flash based apps can be hosted on different physical web and rtmp servers. This works in most situations for Video Conference, 2 Way Video Chat.
Recording, Archiving, VOD, Scheduled Playlists, Re-Streaming / IP Camera: When website scripts / integration requires access to video recordings/archives/streaming configs for management, conversion to HTML5 formats, both web and rtmp parts must be hosted on same physical server so web scripts have access to videos saved by rtmp. This is available with our turnkey complete plans. For recording/archiving/mobile distribution we recommend Wowza RTMP server.
Streams from HTML5 WebRTC, re-streams, external encoders like OBS require FFMPEG with involved codecs to generate snapshots, analyze streams, transcode if necessary. Most web hosting providers do not provide such capabilites. If web hosting includes FFMPEG with necessary codecs, and other advanced features are not required, a streaming only plan could be used.
Turnkey Managed Hosting
For full functionality we provide managed plans and dedicated servers that include everything required to run this software (web + rtmp) at optimum performance. Our staff can also assist with transferring existing sites from other providers. These include functionality like recording/archiving, mobile delivery of streams (hls, mpeg-dash), transcoding support, rtmp session control for 3rd party encoders and players and other extended functionality.
If you just need basic rtmp functionality for live streaming or video chat Flash based apps to use in addition to a 3rd party web host, remote budget rtmp clould hosting options are available. This type of rtmp hosting does not include support for archiving/recording, mobile delivery, vod, transcoding or other extended functionality.