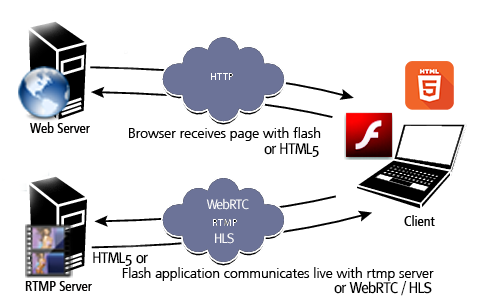 These high end features (web based live video streaming and interactions) have specific software and hardware requirements compared to a regular website.
This advanced software requires 2 types of hosting server capabilities (compulsory):
a HTTP Web Server hosting plan for the regular website features and
a RTMP/HLS/WebRTC Streaming Server hosting plan for live video streaming

This architecture makes it 100% web based and very easy to run for your website users, without software downloads and installations, on multiple device and browsers. Streaming technologies involved depends on each solution (specific requirements apply to each implementation depending on technologies used).
Hosting Web & Streaming on Same or Different Physical Server
RTMP/HLS/WebRTC can be used remotely but many solutions also involve web scripts accessing files on rtmp server (like video files). Solutions that don't involve script access to recordings / videos on rtmp server can be hosted on different physical web and rtmp servers. This works in most situations for Video Conference, 2 Way Video Chat.
When website scripts / integration requires access to video recordings/archives for management, conversion to HTML5 formats, both web and rtmp parts must be hosted on same physical server so web scripts have access to videos saved by rtmp. This is available with our managed plans. For recording/archiving/mobile distribution we recommend Wowza RTMP server.
Turnkey Managed Hosting
For full functionality we provide managed plans and dedicated servers that include everything required to run this software (web + rtmp) at optimum performance. Our staff can also assist with transferring existing sites from other providers. These include functionality like recording/archiving, mobile delivery of streams (hls, mpeg-dash), transcoding support, rtmp session control for 3rd party encoders and players and other extended functionality.
If you just need basic rtmp functionality for live streaming or video chat to use in addition to a 3rd party web host, remote budget rtmp clould hosting options are available. This type of rtmp hosting does not include support for archiving/recording, mobile delivery, vod, transcoding or other extended functionality.