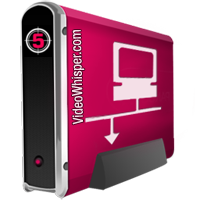 Our server install team can setup latest stable Red5 (or Wowza if you have a license) on your virtual private server or dedicated server. This also includes installation and configuration of VideoWhisper rtmp side applications as needed. Other java red5 applications can also be installed but we can't include any guarantee for 3rd party applications. This will be done by trusted personel that also handles our servers.
Optional: Our staff can deploy other rtmp server types (Wowza Streaming Engine / Adobe Flash Media Interactive Server) instead of Red5 if you have a valid license key for your server.
Our server administrators can also provide subscription based RTMP Server Administration that includes this service.
Our hosting plans and dedicated servers already include rtmp server installed (with full mode license for Wowza) so this is not required.
Warning: Before setting up your own server, make sure it meets the hardware requirements (like bitrate, network connectivity) for expected usage volume. For quick setup, high reliability and performance, we recommend our plans and servers, specially desgined with such usage in mind (network, hardware, software, configuration and administration).
Order

Order Red5 Installation for 150USD