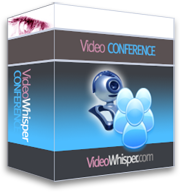 Oxwall / Skadate plugin for easy setup and configuration
Users can create and edit video conference rooms
Configure access , permissions and settings per room
Rooms list, browse online, latest, top, tags
Mainpage widget with online users, room links
Dashboard widget with online friends
Profile widget with user's rooms
Newsfeed update with new rooms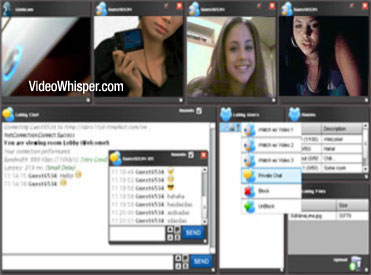 Video Conference plugin allow easy setup of the VideoWhisper Video Conference software, backend configuration and creation of video conferencing rooms in Oxwall.
This provides live web based video conferencing, public & private chat, multiple rooms and file exchange features. Ready to be used for online communities, business meetings.
This software is great for meetings, trainings, conferences, live events, recruiting, consultations, coaching and of course casual community chat. This brings people together instantly and without travel costs. These benefits open a wide range of new business opportunities and bring the extra value needed by established sites struggling to go ahead of their competitors.

Oxwall is unbelievably flexible and easy to use PHP/MySQL social networking software platform. Its flexibility is an extremely easy way to change the way it works usin Oxwall plugins. These plugins are complete units of functionality that can be used for various purposes. VideoWhisper provides multiple Oxwall webcam plugins.
For more details see SkaDate/Oxwall Video Conference on VideoChat Scripts and Oxwall Video Conference Plugin .