The 2 Way Video Chat web based software can easily be used with Moodle sites to build live video interactive virtual learning management systems .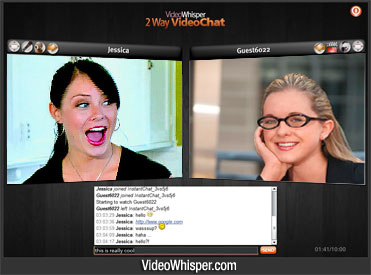 2 Way Video Chat is a P2P high definition web video communication software designed for instant 1 on 1 online video conferencing. It's a solution for conducting easy to setup face to face meetings without leaving your office or home. It's the easiest and most cost-effective way to meet somebody and discuss one on one.
Moodle is a Course Management System (CMS), also known as a Learning Management System (LMS) or a Virtual Learning Environment (VLE). It is a free, open source web application that educators can use to create effective online learning sites.
This 2 Way Video Chat edition integrates into Moodle as an activity module so private video chat rooms can be added to courses as activities, in example for evaluating students. We recommend using this with latest Moodle version. Was tested with Moodle 2.0.1+.
All module php integration code is provided with full source code under GPL (free to use and edit).
You will find multiple details about Moodle Video Chat module activity on this page: demo, how to install, how to configure, how to use, activity settings and permissions, how to customize, how to uninstall/upgrade, all plugins for Moodle.
See this module in action on the Videoeminar - Video Seminars website.

Step by step testing instructions:
1. Create a free account .
2. Select a course and enrol from SETTINGS > Course Administration > Enrol me in this course.
3. Access the Video Seminar activity for that course. The test site includes a Teacher Demo and a Student Demo that demonstrate default permissions for teachers and students. If you have an account you can enrol directly with these links.
Before installing, make sure your hosting environment meets all requirements.


If you're not hosting RTMP with us go to RTMP Application Setup for installation details.
Download the zip file and unzip it to your moodle/mod directory. To verify everything is in the right location, see if you have mod/videochat/README.txt .
Moodle 3.0 requires $module replaced with $plugin (ex. $plugin->version) in version.php from module folder, to allow installation. Older Moodle works with $module (ex. $module->version).

In your browser, go to your Moodle site, login as administrator.
Then from menu go to Site Administration > Notifications
Click [Upgrade] button from page bottom
Click [Continue]
Fill your RTMP Address (obtained at first step) and click [Save]

To edit activity module settings you will need to be logged in with an administrator account:

From menu go to Site Administration > Plugins > Activity Modules > Chat
Edit module settings (applies site wide to all activities):
RTMP Server
RTMP AMF
Max Camera Bandwidth
Buffer Live
Buffer Full
Buffer Live Playback
Buffer Full PlaybackDisable Bandwidth Detection
Limit By Bandwith


Here is how to remove Moodle module if you wish to uninstall or install a more recent version (upgrade):

Access from menu: Site Administration > Plugins > Activity modules > Manage activities (or Administration > Modules > Activities in versions of Moodle prior to 1.9).
Click on delete next to the module you wish to remove.
Use a file manager to remove/delete the actual module directory from moodle/mod, otherwise Moodle will reinstall it next time you access the site administration.
If you wish to upgrade, after removal just follow installation instructions to install the new version.

Customizing Moodle Video Chat activity module

The Moodle integration is based on a slightly modified php 2 way video chat edition so you can also check that for customizing settings, integration and implementation of other features.

Here is how to use the Moodle Video Chat activity module in a course:

1. Create/View a course
2. Turn editing On
3. Add an activity... Video Chat
4. Save and Display

Here is how to configure the Moodle Video Chat activity, edit room settings and permissions:

Create/View a Video Chat activity with an administrator account


To edit room settings, from menu go to SETTINGS > Video Chat administration > Edit Settings :
Camera Height
Camera FPS
Microphone Rate
Camera Bandwidth
Welcome message
Filter regex
Filter replace
Flood protection


To edit room permissions for different member types, from menu go to SETTINGS > Video Chat administration > Permissions:
Configure connection
permit external encoder
sound enabled
video enabled
enable buzz
enable next
enable P2P
enable server
enable sound FX
request snapshot
send text chat
show text chat
show timer
access video chat room