The Live Streaming web based software can easily be used with Moodle sites to build live video interactive virtual learning management systems .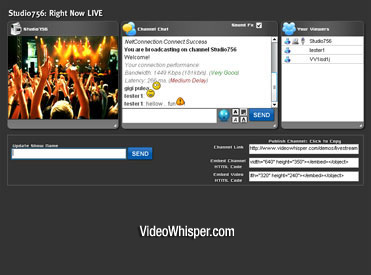 Live Streaming contains an application to broadcast video with realtime configuration of resolution, framerate, bandwidth, audio rate and allows discussing with video subscribers.
Moodle is a Course Management System (CMS), also known as a Learning Management System (LMS) or a Virtual Learning Environment (VLE). It is a free, open source web application that educators can use to create effective online learning sites.
This Live Streaming edition integrates into Moodle as an activity module so live video channels can be added to courses as activities. We recommend using this with latest Moodle version. Was tested with Moodle 2.0.1+.
All module php integration code is provided with full source code under GPL (free to use and edit).
You will find multiple details about Moodle Live Video Streaming module activity on this page: demo, how to install, how to configure, how to use, activity settings and permissions, how to customize, how to uninstall/upgrade, all plugins for Moodle.