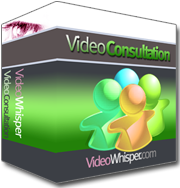 Collaborative moderated video conferencing
Slideshow, file sharing, user interactions
Webcam recorded slides & annotations
Document and Media Slide Import
(PPT, DOC, PDF, MP4, MP3, MPEG...) (v3+)
Animated Slide Annotations (v3+)
Whiteboard / Comments / AV Recordings
Users can create and manage rooms
Admins can also manage room setup templates
Configure access, permissions and settings per room
Show rooms list and management links with module
Limit usage time / bandwidth per room & user
Room usage statistics: user session time and duration (v3+)
AJAX online status embed code
Manage logs and shared files
Supports JomSocial groups
Supports Joomla Updater
Video Consultation component and module for Joomla allows easy setup of the VideoWhisper Video Consultation software, backend configuration and creation of video presentation rooms from backend and frontend.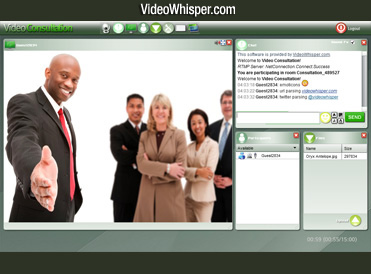 This provides live web based video conferencing, chat, live shared slideshows and file exchange features with advanced realtime moderation designed for video seminars, internet based live trainings and e-learning, online collaboration.
You can test it on these live sites:
Register an account to test it with high quality settings, create your own rooms or test as visitor with normal quality.
The component is developed using MVC (model view controller) for Joomla and same extensions work on Joomla 1.5, 1.6, 1.7, 2.5. For Joomla 3+ there are new, improved extensions.
Joomla is an award-winning member and content management system (CMS), which enables you to build web sites and powerful online applications. Joomla is free and open source, easy to install and supports many ready made add ons to extend its functionality (e-commerce, e-learning, inventory, reporting, bridges to other applications).

Also supports JomSocial groups if component is available.
Joomla integration features:
Backend Features: Setup parameters, create and manage all rooms (including permissions) and room templates.
Front End Features: List latest public rooms & user's rooms, create room (from template), manage settings for own rooms.