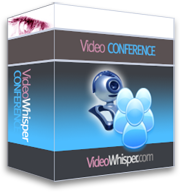 The VideoWhisper Video Conference software editions are available as free editions. Compared to the purchased licenses these have some limitations but are great for trial evaluation, developers, resellers or low budget websites. No matter what type of php site are you running, this is a fast and easy way to integrate free video chat conferencing on it.
Free Video Conference edition limitations*:
Maximum number of rooms: 4
Maximum number of users in each room: 10
One video stream slot is used to display a free edition ad
*Our free edition licenses are subject to change. We reserve the right to change limitations, method of licensing or terminate free licenses anytime.

Downloads
Free Evaluation
All products and editions can be tested in the online demos.
Also all can be downloaded for evaluation in free (limited) mode. That requires compatible hosting as listed on our site.
Hosting plans can also be tested with the online demos. We do not provide free hosting plans or free access to rtmp address due to high resources required for streaming and setup costs.
Best way to evaluate everything in full mode is with license and our fully compatible turnkey hosting subscriptions.
Both hosting plans and licenses can be rented for a minimum duration of 1 month by ordering a subscription. It can be canceled until month ends from billing site if you don't want to continue.
You can use our rtmp hosting plans for everything (web+rtmp) or in combination with your current web hosting (install application on your site and configure it to use rtmp address from a plan you have with us).

Why should I get a full mode license?
A regular license will remove all limitations and intrusive ads from the flash application when run from licensed domain.
Each order includes one free installation, if compatible hosting is available (see requirements).
Licensed full mode includes on site assistance with installation, troubleshooting.